Janmashtami is a prominent Hindu holiday celebrated with great zeal and passion across India to honour the birth of Lord Krishna, Lord Vishnu's eighth incarnation. This auspicious date occurs in August or September, depending on the Hindu lunar calendar. As a dynamic and diverse country, India has a wealth of venues where you may immerse yourself in the happy Janmashtami celebrations. Here are some of the best places to see this festival in all its glory:
1. Mathura, Uttar Pradesh: Mathura is thought to be Lord Krishna's birthplace, and the Janmashtami celebrations here are nothing short of magnificent. Colourful processions, dancing displays, and religious music bring the city to life. The festivities are centred on the Dwarkadhish Temple and the Krishna Janmabhoomi Temple. Thousands of pilgrims and visitors visit Mathura to see the splendour of the Janmashtami festivities.
2. Vrindavan, Uttar Pradesh: Located just a few kilometres from Mathura, Vrindavan is another important Janmashtami destination. The town is filled with temples, ashrams, and ghats and is strongly identified with Lord Krishna's early childhood. During this period, the primary attractions are Banke Bihari Temple and ISKCON Temple, where devotees give prayers, perform bhajans, and engage in cultural programmes.
3. Dwarka, Gujarat: Dwarka is thought to be Lord Krishna's realm and a popular pilgrimage spot for Krishna believers. Janmashtami is celebrated in this city with a magnificent procession of Lord Krishna's idol around the city. The main venues to see the festivities are the Dwarkadhish Temple, Rukmini Temple, and Bet Dwarka Island.
4. Puri, Odisha: Janmashtami is celebrated in Puri with a unique ritual known as "Hati Besha" or the elephant costume. Lord Krishna's idol is dressed like an elephant, and a spectacular parade through the streets of Puri takes place. The Jagannath Temple in Puri is the focal point of these festivities.
5. Udupi, Karnataka: Udupi is well-known for its connection to Lord Krishna and the Udupi Krishna Temple. Janmashtami is celebrated here with tremendous passion and zeal. The temple holds a variety of rites, cultural programmes, and extravagant feasts known as "Annakut." The "Palanquin Utsava" is a unique ceremony in which the god is carried about the city on a palanquin.
6. Jaipur, Rajasthan: The Pink City of India, Jaipur, too celebrates Janmashtami with passion. The Govind Dev Ji Temple, which is devoted to Lord Krishna, is magnificently ornamented, and devotees go to it for special darshan and aarti. During this season, the city's marketplaces are festooned with colourful decorations and sweets.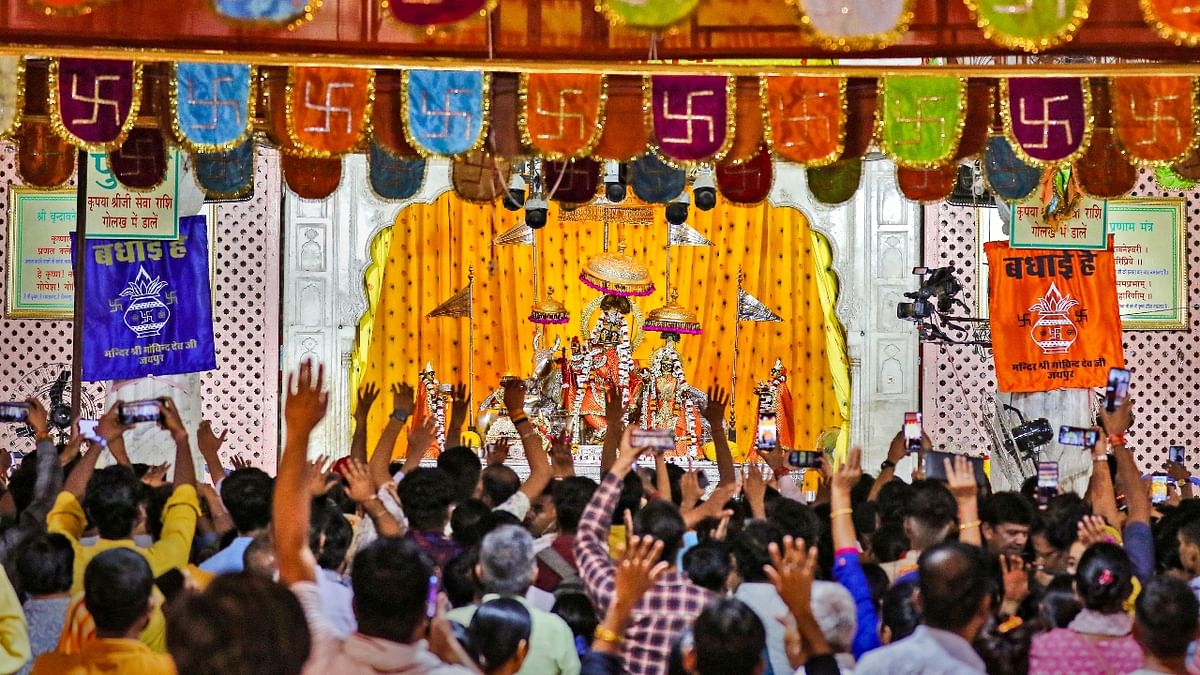 7. Mumbai, Maharashtra: Janmashtami is celebrated in Mumbai with the famed Dahi Handi tournament. To symbolise Lord Krishna's playful character, young men create human pyramids to smash a pot filled with curd. Music, dancing, and contests are held at various venues across the city as part of the celebrations.
8. Gokul, Uttar Pradesh: Another famous location linked with Lord Krishna's boyhood, Gokul, has lively Janmashtami celebrations. The Gokulnath Temple and Gokul Mahavan are focal points of the celebrations. Pilgrims participate in religious processions and visit important locations associated with Lord Krishna's childhood.
9. Dwarka, Delhi: India's capital city, Delhi, too celebrates Janmashtami with zeal. Devotees flock to the ISKCON Temple in East Kailash and the Laxmi Narayan Temple in Mandir Marg to offer prayers and see cultural performances.
10. Nathdwara, Rajasthan: Nathdwara, which means "Gateway to Lord Krishna," is well-known for its Shrinathji Temple. Janmashtami is celebrated here with tremendous zeal and elaborate customs. Thousands of worshippers go to the temple for a rare sight of Lord Krishna in his newborn form.
Finally, Janmashtami is a time of spiritual meditation and exuberant celebrations in India, and these sites provide a look into the various ways in which this holiday is celebrated. Whether you are looking for a cultural adventure, a spiritual trip, or a taste of India's rich traditions, visiting these destinations during Janmashtami will give you with an unforgettable encounter. Each place provides a distinct perspective on Lord Krishna's life and teachings, making this a particular opportunity to discover India's rich cultural legacy.